Faction 1: Education
The Revolution wholeheartedly believes that the children are the future and that unremitting efforts must be made to establish a free, alternative primary education system that focuses on critical thinking without judgment, hyper-awareness with acceptance, and ego-loss to access the magic all around us. This is of considerable significance to ensure a present and future commonwealth committed to continuous expansion for all on this earth and beyond!
Information & News
Projects
About Faction 1
Educators Wanted!
If you truly believe, as Whitney sings, that the children are the future and that learning to love yourself is indeed the greatest love of all and you are operating from a place of abundance and are seeking a rewarding and expansive career developing curriculum for an alternative primary education system described in Faction 1, please contact The Revolution. The Revolution also welcomes dialogue and collaborations with already established educational organizations.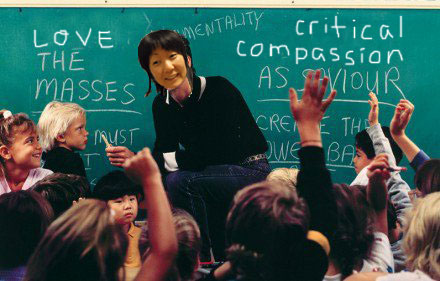 Education

Faction 1 of The Revolution
A thorough text detailing this Faction will be available soon. Please check back later or join The Revolution's mailing list to receive email notifications. You can also Follow The Revolution on Twitter and Like The Revolution on Facebook to receive updates in your News Feed.