Adventures Within: 2013 episodes
How do you interact with someone who has different, even opposing, beliefs from your own? Would you even talk to that person let alone be friends? Can someone adhere to Mormon beliefs regarding homosexuality and have queer friends and can someone who is queer allow a friendship with a Mormon knowing that s/he subscribes to this belief? I am very much queer-aligned and my co-host, Robert, is very much Mormon. How can Robert and I be friends and have a radio show together? Well, for one thing, I understand that who a person is is not their beliefs. As my life coach friend, Michael Blomsterberg, once explained, most of the time we are not having relationships with the actual person. It's our beliefs that are having relationships with one another. Can Robert and I see past our opposing beliefs and connect at a heart level for a friendly adventure within religion? Listen to this godly episode of AW and find out! Robert's heavenly playlist. Broadcast date: 12/15/13.
Marxist revolutionary, Che Guevara, once wrote, "At the risk of seeming ridiculous, let me say that the true revolutionary is guided by a great feeling of love. It is impossible to think of a genuine revolutionary lacking this quality." Love, specifically unadulterated love, forms the basis of The Revolution and of this revolutionary. How about my special guest and fellow revolutionary, Robby Herbst? Join me and Robby as we adventure within our ideal worlds, our greatest fears, and our biggest dreams. How are our approaches to revolution similar and how are they different? How do two self-proclaimed revolutionaries engage with one another and can we combine forces to create a super revolutionary? I know I have a revolution crush on Robby. Maybe you will too. "The desire to sacrifice an entire lifetime to the noblest of ideals serves no purpose if one works alone." – Che Guevara. Robert's revolution playlist. Broadcast date: 11/17/2013.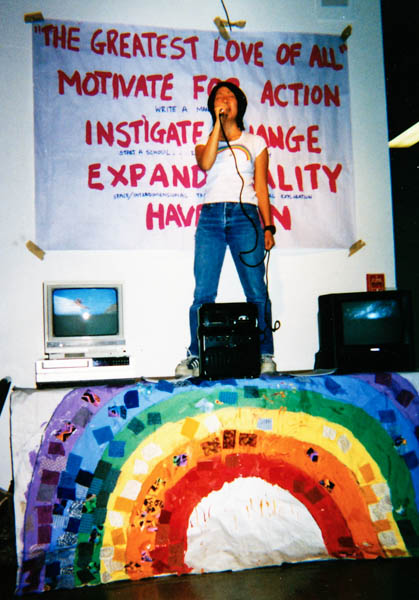 Don't have time to go to church? No problem. Adventures Within has got you covered with this inspirational singing sermon broadcast live from Lindbrook Terrace at the Hammer Museum. Join me as I sing The Songs We Sing Together from past episodes of Adventures Within and relate their powerful messages to my life experiences today. Hear the word of The Revolution through personal stories and songs by Michael Jackson, Kelly Clarkson, Glee Cast, Miley Cyrus, Sara Bareilles, and Cyndi Lauper. Singing is guaranteed to lift your spirits to the glory of love and revolution! From the inspired words of Stephen Sondheim, "If I cannot fly, let me sing"! This special broadcast of Adventures Within is part of KCHUNG's Public Engagement residency at the Hammer Museum. Broadcast date: 11/16/2013.
The organization of family, the power structure played out within family, the ideologies and core beliefs espoused by the family mimic and perpetuate the organization, power structure, ideologies and core beliefs of the larger socio-economic system in which the family exists. The human family is an institution where a child learns the norms and ideals of the dominant culture in society. The family is where one initially learns how to love, how to perceive oneself and others, and how to interact and maneuver in the world. If you want to change the world, you must change the family. How did we learn to love and desire the very things that oppress and exploit us? It starts with the family. So what kind of family are you creating? Listen to this revealing episode of AW to learn the secrets hidden behind the walls of the Moon family household, those secrets that helped create unwanted identities and labels during my early years of socialization, which I carried with me into adulthood to tyrannize myself and others, and then later transformed to stimulate my drive for revolution! Robert's family playlist. Broadcast date: 10/20/13.
Capitalism's inherent social and economic inequality has long been identified and the burgeoning of the Occupy movement is testament to the fact that more and more of the populace throughout the world have experienced the incongruity between capitalist principles and egalitarian democracy. So now that we know we want something different, how do we go about actually changing an entire, complex system that has dramatically shaped the gene expression of our cells to the point where capitalist principles and capitalist emotional responses have become normalized? The answer is to adventure within, to get vulnerable with capitalism! Join me as I reveal everything you need to know about my finances, how capitalist principles influence my emotional responses in relation to my art practice and my numerous attempts at love. How my parents immigrated from Korea to seek the American dream and ended up in prison to provide me and my brother with a privileged life (I'm not the only one in my family who's been to the penitentiary!). Robert's money playlist. Broadcast date: 9/15/13.
There is a poem often referred to as Reason, Season, Lifetime. It starts off stating, "People come into your life for a reason, a season or a lifetime" and it goes on describing these three manifestations. When I consider the friendships I've had throughout my life, I often think of this poem; and there is one relationship in particular that seems to traverse all three types and that is with my friend, Alex Segade. Alex and I have known each other for twenty-two years, meeting fresh out of high school during UCLA orientation. Since then, we have been best friends, collaborators, questioned our relationship, drifted apart, denounced our friendship, and now reunited on AW! During our closest times together, I thought Alex was the smartest person in the world and he wondered if I was a sociopath. Listen in on some old friends in new times and hear how our past perceptions of each other affect our interactions today as we discuss our relationship, art, My Barbarian, psychoanalysis, religion, identity, and more! Alex and Jennifer's friendship playlist. Broadcast date: 8/18/13.
What is the ego? Beyond being one of the three constructs of Freud's model of the psyche, many people think of ego as egotism: an exaggerated or excessive sense of self-importance. But the ego can also show itself as the exact opposite: an exaggerated or excessive sense of inferiority and self-loathing. Ego is any image you have of yourself that shapes your sense of identity and value. It is a shield we construct around ourselves, believing it is keeping us safe when in fact it is keeping us separate. Ultimately, our egos function to emphasize the "otherness" of others. And underneath all of this is fear. In order to uncover our fears, it's time to adventure within our egos. I have a pretty hefty ego and so does my guest co-host, Lauren Martinez, so our plan was to let our egos out of their cages to battle for superiority! However, it turned out that it's hard to be in ego when one acknowledges the ego so it became more of a discussion about egos, penises, male energy, sharing of egoic fantasies, love, and crushes. Have a listen. I think you may like it. Robert's ego playlist. Broadcast date: 7/21/13.
Can you imagine a letting go of self, a loss of self, a sort of death of self in order to merge with others and the world to create a third combined super entity, much like Doug and Warlock of The New Mutants? This merging requires a trust and faith that only comes from operating from a place of abundance. Principle 2 of The Revolution states, "Always choose the most expansive route from moment to moment because the most expansive route can change from moment to moment, which will then allow one to always remain in the moment and it is only in the present moment that one can access the magic." The ability to be completely present originates from knowing that you are enough for the mere fact that you exist. This state of abundance will then allow you to loosen your grasp on self and become available to merge with all that exists around you. Have a listen to episode 10 of AW and learn how to make possible the impossible! Robert's magic playlist. Broadcast date: 6/16/13.
Principle 1 of The Revolution defines abundance and details the process of learning how to operate from a place of abundance. The foundation of abundance is unadulterated love of oneself so learning how to operate from a place of abundance is synonymous with learning how to love oneself and learning how to love oneself means learning how to pay attention to yourself—all of yourself, including the parts that you judge as awful and work hard to push down and deny. How do you access those parts of you that you may not know exist because they have been banished? You start by becoming hyper-aware of how you judge others because the things you judge so harshly in others are essentially the things you judge so harshly in yourself. How am I similar to pedophiles and animal abusers and everyone else I judge as horrible and awful? Listen to episode 9 of AW and find out. If you want to be a revolutionary and bring about a new world of love and continuous expansion for ALL on this earth and beyond, you must learn to love EVERYONE; otherwise love is destroyed as a political concept and the only true transformative force. Robert's principled playlist. Broadcast date: 5/19/13.
Were you able to talk about shame when you were a teen? Or were you encouraged to not feel bad and just be HAPPY :D!!! If we don't learn to recognize and acknowledge our shame, lean into it, bring it in closer, and learn to love it, it will continue to kick our butts and dictate our perception and behavior in unexpected and unfortunate ways throughout our adult lives. According to Brené Brown "shame is all about unwanted identities and labels" and scientific studies have suggested that our self-image developed during our adolescent years will likely govern how we see ourselves for the rest of our lives! Given this information, Jennifer Senior writes the following in a New York Magazine article, "Why You Truly Never Leave High School": "...if humans really do feel things most intensely during adolescence, and if, at this same developmental moment, they also happen to be working out an identity for the first time...then it seems safe to say this: Most American high schools are almost sadistically unhealthy places to send adolescents." Listen to episode 8 of Adventures Within with three courageous teenage guests, Hason, Iris, and Yessy, and get ready to be thrown back into your adolescent years! Robert's teenager playlist. Broadcast date: 4/21/13.
Have a listen to this very special collaborative broadcast of freestylin' fellowship as Adventures Within joins forces with Google Useless Radio, a fortnightly internet radio show on Subcity Radio in Glasgow, Scotland! MC Donalds and DJ Sports of GUR invited Jennifer Moon of AW as a guest on their show to discover their flow. Diving, heart first, into fear and imminent feelings of humiliation and then consciously remaining in that space in hopes to persevere past those highly uncomfortable feelings into some sort of freedom was the adventure and the triumph. I may never become a first-class freestyler but I certainly came out of it with greater courage, more spirit, and two beloved brothers born from battle. It's an uncharted adventuring within the psyches of three! Broadcast date: 3/20/13.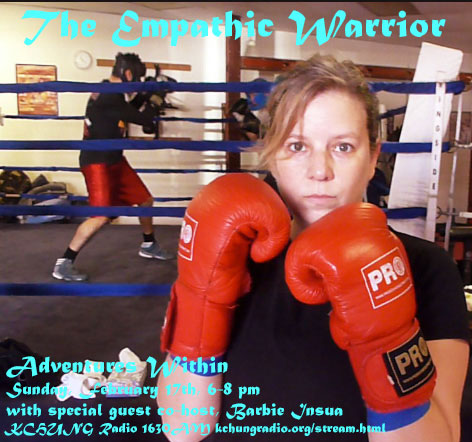 Adventures Within is now a 2-hour show! That's an hour of talk with Jennifer Moon and an hour of music with Robert Watkins! To inaugurate this new phase of adventuring within, we have a very special guest co-host, Barbie Insua. Join Jennifer and Barbie as they adventure within Bipolar disorder, portrayals of betrayal, and learning to love one's perceived enemies. Through this episode, I have realized that when one exists from a place of wholehearted empathy and untempered understanding of another—to really see a person beyond one's beliefs and fears and to also see oneself in another—there is no longer any need for forgiveness. In fact, the concept of forgiveness ceases to exist because one realizes there is nothing to forgive. Now that's revolutionary! Robert's betrayal playlist. Broadcast date: 2/17/13.